Jakarta - If you have a cell phone, but has the ability to sophisticated video camcorders generally, What would you do? With a cell phone can record video High Definition (HD) and can be watched instantly on home theater, what will we do? That is the
Nokia N8
, the latest smart phones from Nokia that combines style and technology, enables us to record every precious second of our lives with very beautiful.
Nokia N8
- quality video recording capability High Definition (HD). The touch screen
Nokia N8
with wide 3.5 "makes us very comfortable. All operations in a video recording is done with a soft touch our fingers.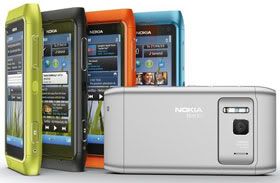 After recording, we can make our video much more beautiful and meaningful with a video editor application that is already on Nokia N8. We can add music, pictures, text and transitions in our video work.
After that, the video can be uploaded on social media networks, directly from the
Nokia N8
. Not only can record video in HD, Nokia N8 also can be used to replace regular digital cameras. armed with a
12 MP camera
with Carl Zeiss lens (lens commonly used in digital cameras upscale) with the portrait of HD, the image quality the Nokia N8 will be very beautiful.
Furthermore, we can download various applications of Ovi Nokia N8 Store to enrich us. There are several applications for the photos and videos specifically for the Nokia N8. Once inside Ovi Store, select the series Nokia N8, then select an application under the category of pictures & videos. Applications of Ovi Store will make the Nokia N8 our ability to be virtually unlimited.
A very cool, video recordings Nokia N8 not only can be viewed on mobile phones or computer screens only. The result of the tape can be played to a home theater projector that is compatible or anywhere. Thanks to this HDMI connection, the Nokia N8 recordings can be enjoyed not only themselves, but also can be enjoyed by the whole family. Videos are viewed in the home theater is all in the resolution of High Definition (HD) 720p.
Read More ....